Sushant's father lodged an FIR against Riya, Kangana said- '15 crore missing and ...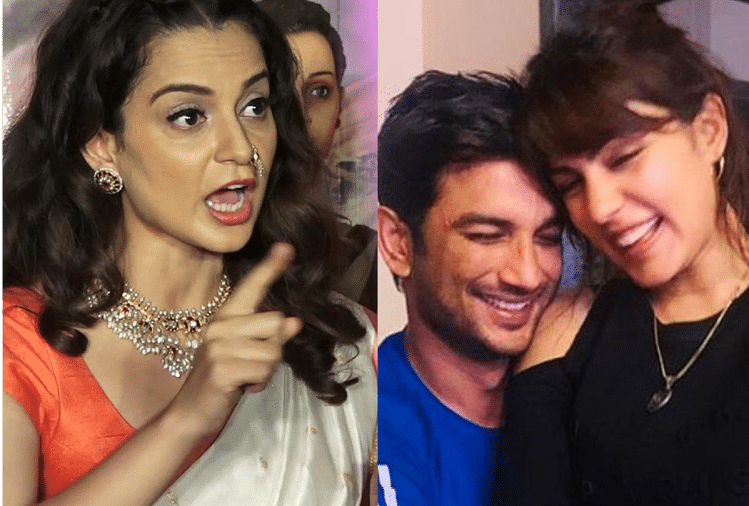 The father of actor Sushant Singh Rajput got an FIR registered against Riya Chakraborty in Bihar on Tuesday. In this complaint, he accused Riya and his family of conspiring against Sushant, grabbing his money, and abetting suicide. Shortly after this case, actress Kangana Ranaut's statement also came. He has questioned the role of Mahesh Bhatt and Mumbai Police, including Riya Chakraborty.
Kangana Ranaut's team wrote in response to a tweet, "Riya was with Sushant for the last 6 months, he had appointed Mahesh Bhatt as his psychiatrist and mysteriously disappeared two days before his death. Were. Glad that this whole thing will be investigated now. In another tweet, Kangana wrote, '15 crore missing from Sushant's account and Mahesh Bhatt said in his statement to the police that Riya considers him his mentor, no wonder Fraudgiri has not been learned, but it is transferred.
15cr missing from Sushant's account and Mahesh Bhatt in his statement to police said Rhea considers him her Guru, no wonder Fraudgiri is not learnt, it's transmitted 🙂 https://t.co/ncI6b8NpHJ

— Team Kangana Ranaut (@KanganaTeam) July 28, 2020
Questioning the Mumbai Police, Kangana's team tweeted, 'There was a time when Mumbai Police was the pride of our country but today it has become a shame for us. The film industry should boycott its zeal show where the bravery and services of the police are celebrated every year.
There was a time when @MumbaiPolice was the pride of our nation today they have become the shame for us, film industry must boycott their Umang show where film industry celebrates their bravery and services every year#RheaChakraborty #WhyFearCBIForSSR https://t.co/GcLwg598XW

— Team Kangana Ranaut (@KanganaTeam) July 28, 2020
Kangana, while replying to a user, targeted Mahesh Bhatt and his family. Kangana's team tweeted, Pooja Bhatt said that she is struggling with alcohol addiction, Shaheen is professionally depressed, Alia says she is struggling with anxiety and her son Rahul has been related to terrorism activities, he (Mahesh Bhatt) Why was you counseling Sushant?
Let me tell you that Kangana has been continuously demanding a CBI inquiry into the suicide case of Sushant Singh Rajput. For the past several days, Kangana has been showering heavily on some celebrities of the film industry. In the case of Sushant's suicide, Mumbai Police has also summoned Kangana for questioning.